Affiliate disclosure: In full transparency – some of the links on this website are affiliate links, if you use them to make a purchase we will earn a commission at no additional cost for you (none whatsoever!). This will help us to create some awesome free contents. Please understand that your trust is so important for us. If we recommend anything, it is always something we have tested and we believe it is worth exploring.
If you are a Groovester(a member of the GrooveFunnels family), it is quite obvious that you might have overwhelmed with the plenty of apps that the product GrooveFunnels offer under one roof.
GrooveKart and GrooveSell are two such popular apps that are quite confusing when someone is just starting out with GrooveFunnels. In this article, I do a Groovekart vs GrooveSell comparison.
Click here to read complete review about GrooveFunnels
GrooveKart and GrooveSell are two completely different applications that serve different purposes.
GrooveKart vs GrooveSell Comparison
Product
GrooveKart
GrooveSell
Use
To create stores like Amazon & Ebay.
To create a complete sales funnels system
Features
• Scarcity and Urgency
• Same Page Checkout
• Related Items Pre And Post Checkout
• Social Proof
• Reviews Under Your Control
• Designed for Mobile and Desktop
• 1-Click Upsell
• Custom Domains
• Coupons and Discounts
• Easy to track
• Awesome dashboard
• Automated & Manual -Easy to handle refunds
• Provide a coupon code for each product.
• Unique tracking links to track sales.
• Easy to handle affiliates including tier 2- All automated
• Also, Automated transactional email upon every transaction.
• Track affiliate performance & leadership boards.
• Track cart Abandons and trigger follow-up emails
Ideal for
Dropshipping and merchandise store
Selling digital products
Price
FREE
FREE
Alternative
Shopify
ClickFunnels
click here to read comparison on GrooveFunnels vs ClickFunnels
GrooveKart
GrooveKart application is used to create an ecommerce store like Amazon, ebay etc. If you wish to start an ecommerce store to sell physical products or dropshipping services, then GrooveKart is the one which you have to choose.
GrooveKart can be easily compared to Shopify store. But in Shopify, there is a monthly fee with some limitations. Whereas, GrooveKart is completely free (Launch offer) . If you already own a shopify store, then you can easily migrate to GrooveKart with just a click on a button.
GrooveKart is already integrated with services like Print on Demand and Dropshipping services so that you don't have to create products or manufacture or even keep the inventory.
Click here to read in-depth about GrooveKart
GrooveSell
GrooveSell is a sales funnels system, a shopping cart with features like add to cart, one click upsell, downsell, and order bumps. This creates a sales funnels and a customer path that your lead can follow through our the checkout process.
GrooveSell is ideal for selling digital products. After the completion of the entire sales funnels process, based on the pricing that customer buys, the end product(delivery) can be served to the end customer automatically.
Click here to read in-depth detail and features about GrooveSell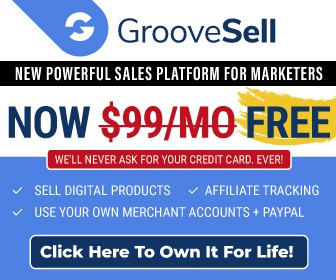 groovekart vs groovesell
GrooveKart can be used if you want to create a store like shopify to sell physical products. GrooveSell is the complete sales funnels system which can be used to sell digital products.
groovekart vs Shopify
GrooveKart is completely free and Shopify has a monthly fee. Both serve the same purpose. You can create an account in groovekart and easily import Shopify store to groovekart.
Groovesell pricing
GrooveSell is completely free. If you signup for an account in GrooveFunnels, you get GrooveSell and GrooveKart for free
Conclusion
Groovekart and GrooveSell both are powerful applications provides by GrooveFunnels, which serve two different purposes. To sum up, if you want to create a store like dropshipping or merchandising then GrooveKart does the job for you in 1 click. If you want to sell digital products, then use GrooveSell.
If you have any questions, you may leave a comment below. I will reply to every comment.
Don't forget to subscribe to xnura newsletter
Get more stuff like this
Subscribe to our mailing list and get interesting stuff and updates to your email inbox.
Thank you for subscribing.
Something went wrong.